Jakarta, March 20, 2019 - Public excitement to welcome BFI RUN 2019 is getting higher from year to year. The implementation of BFI RUN, an annual race organized by PT BFI Finance Indonesia Tbk (BFI Finance), is continuously proven successful since its first launch in 2016. The BFI RUN 2019 theme of "My Energy Potential" is reflected on the enthusiasm of 6,000 runners who are ready to share their energy and positive spirit on the next April 7 at AEON Mall BSD City, Tangerang Selatan, starting at 4 am.
This positive energy was also shown by the response of dozens of Media Partners who gathered in XXI Lounge, Plaza Senayan (20/3). This was the second press conference held approaching the race day. Not to mention that there were also sponsors and official partners present along with running communities who were likewise eager to find out the latest update on BFI RUN 2019 preparations.
BFI RUN 2019 is proud to collaborate with a number of strategic partners, including Bina Dana Artha Insurance, Sinar Mas Insurance, Wahana Tata Insurance, FPG Insurance, FWD Life, 2XU, Brand's Saripati Ayam, Astra Buana Insurance, Mapfre Abda Assistance, Etiqa Internasional Indonesia Insurance, Commonwealth Life, Cigna Insurance, and Raksa Pratikara Insurance. These partners also pay attention to risk protection, healthy lifestyle, and improvement of community's welfare.
BFI RUN 2019 is further supported by AEON Mall BSD City and Sinar Mas Land as official venues, Pocari Sweat as official hydration, Adidas as official running jersey, and Pic2Go as official race documentation.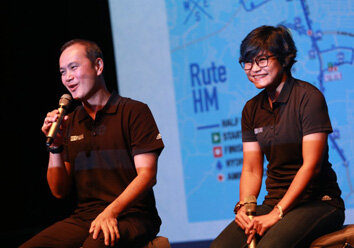 (left-right) Sudjono (Finance Director of BFI Finance) and
Bertha Gani (Race Director of RunID)
Various questions from journalists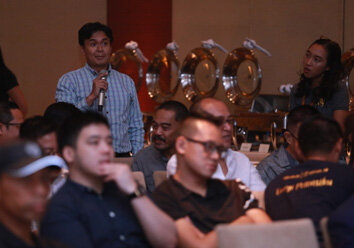 Running communities were also present to find out any updates
on BFI RUN 2019 preparations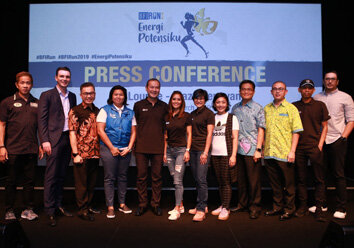 BFI RUN 2019 together with sponsors and official partners