Sobat BFI! Who has ever heard of the term "staycation"? Recently, the term staycation has become a topic of conversation that is often raised by teenagers and young adults. So, what exactly is a staycation? See more information in the following article.
Definition of staycation
The concept is, that a staycation is a vacation that does not require a plane ticket, passport, or visa. As the name implies, a staycation is divided into two syllables, namely, stay which means staying in a place, and cation which is a word from vacation which means vacation. So, a staycation is a vacation somewhere close to the house or place of residence to enjoy the environment around the inn or visit the nearest tourist spot. For some people, a staycation is a means to relieve fatigue and find a new atmosphere.
Origins of Staycation
This term first appeared during the financial crisis in the United States in 2007-2010. In these difficult times, transportation and accommodation costs are certainly a major consideration when residents want to travel far. This makes people in these times of crisis choose to stay at home and do activities that can be fun in the middle of the holiday such as cycling, reading books, and exploring several cities.
Although it has shifted slightly from its origins, staycation has become a very trending term and is suitable for individuals who want to take a vacation but do not require a ticket to travel, but rather stay in a location or hotel and enjoy the facilities provided.
Best Time of Staycation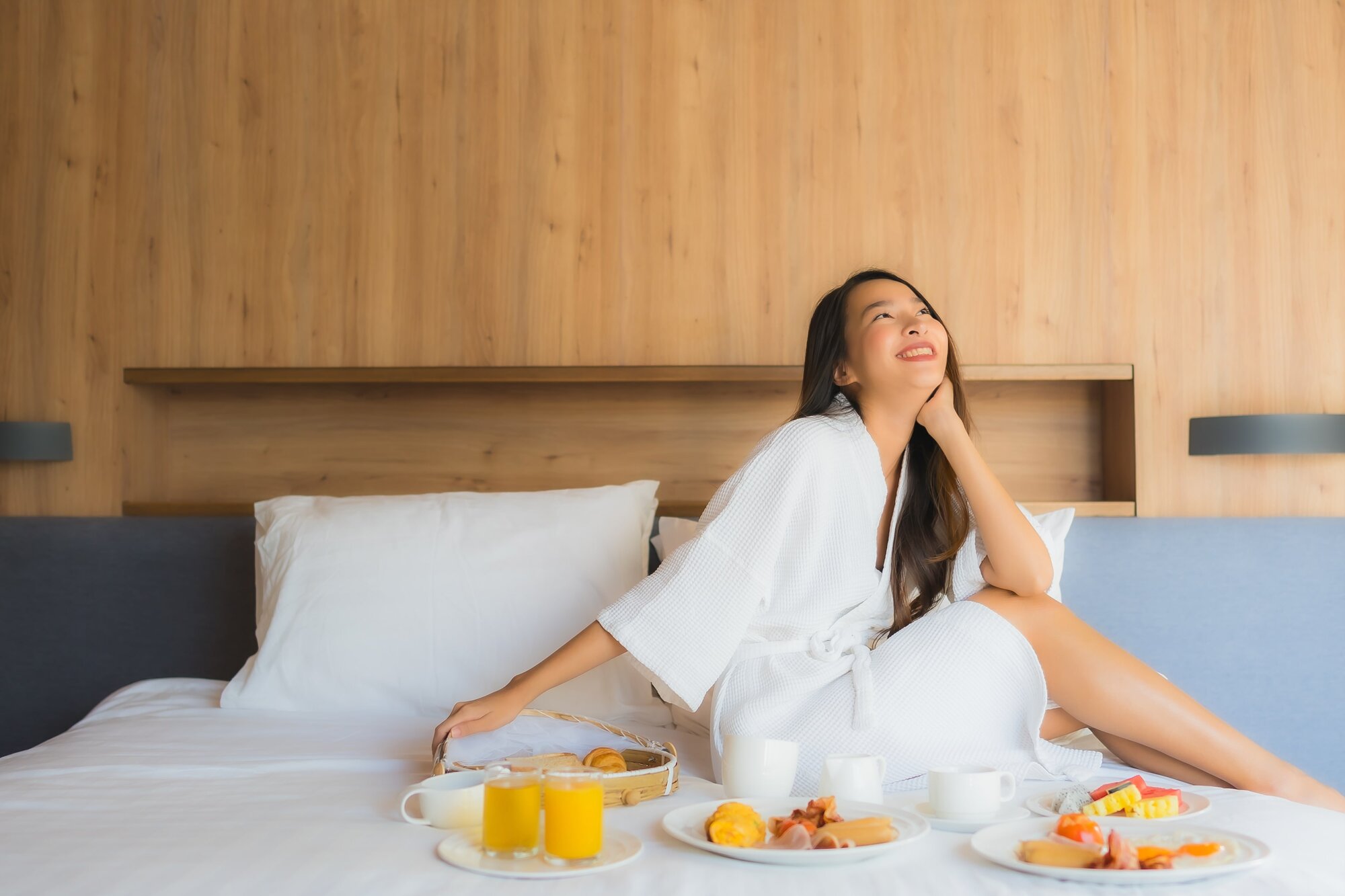 Actually, the best time for a staycation itself depends on the conditions and needs of each. There are some of the best times for a staycation like the following.
Weekdays
This time is recommended for those of you who want to enjoy the facilities or scenery around the inn and don't want the crowds. During weekdays, holidays will be safer and away from crowds when compared to holidays or weekends considering that many families spend weekends on staycations with family to enjoy hotel or villa facilities. If you are an employee and work from home, weekdays are also the right choice for a staycation while working from home.

When there is no activity
Next is when neither is activity. If you really want to enjoy the facilities or the scenery around the inn location without any distractions from work and other things, then you can do a staycation when there are no activities.

When you need refreshing
The last thing is to do a staycation when the state of mind is tired and needs entertainment or refreshing.
Recommended Staycation in Jakarta
If you live in the Jakarta area, these 10 hotels are suitable for those of you who want a staycation at a price that can be adjusted to your budget.
Raffles Jakarta
Image Source : Raffles.com
If you have an excess budget, you can stay at Raffles Hotel Jakarta. The rooms at this hotel are also very spacious and luxurious. There are various facilities that can be used, such as a swimming pool, garden, kids club, gym, and mall, namely Lotte Shopping Avenue. You can also enjoy views of tall buildings and city night if you stay at this luxury hotel.
Swissotel PIK
Image Source : Swissotel.com
The next hotel recommendation is Swissotel PIK with luxurious and elegant interiors. There are facilities in the form of a sauna and massage services that you can enjoy if you want to pay an additional fee. This hotel is a 5-star hotel that is guaranteed to make the mind and body more relaxed.
Holiday Inn & Suites Jakarta
Image Source : Agoda
Hotel Holiday Inn is a medium and quite affordable hotel that can be an option for those of you who want a staycation. This hotel is located in Wahid Hasyim and Gajah Mada Jakarta. For hotels located in Gajah Mada, you can visit 2 places to eat, namely Duta Cafe and Duta Bakery to pamper your stomach. Meanwhile, for hotels located in Wahid Hasyim, you can go around the city of Jakarta, especially the HI Roundabout, Grand Indonesia Mall, to Monas.
Ibis Style Jakarta
Image Source : Booking.com
The next recommended staycation place is Ibis Style Jakarta. This hotel has a minimalist concept with modern interiors in the rooms. You can feel the sensation of visiting Candyland because of the colorful furniture and interior designs. Suitable for those of you who want to take Instagramable photos.
La Boheme
Image Source : Tripadvisor
The hotel in Jakarta that can be used as the next staycation is La Boheme. This hotel has a minimalist concept with an eco-living theme. Some of the interiors of the hotel rooms are decorated with ornamental plants such as cacti and furniture made of wood. In addition to the hotel room, on the top floor, you can order some food when you are hungry with a beautiful view of the tall building.
Rumanami
Image Source : Phinemo.com
Hotel rumanami is an instagramable hotel that can be an option for a staycation in the Jakarta area. This hotel has a building form that is dominated by bricks with wooden interiors. This combination of the beautiful building and interior design makes some people choose a staycation at this hotel in Kemang.
Mercure Hotel Ancol
Image Source : Agoda.com
If you intend to staycation with your family, especially bringing your baby, Mercure Ancol Hotel can be a solution because of its location close to several tourist attractions such as Dufan, Allianz Ecopark, and Seaworld. Guaranteed tired to go, the child is happy.
Fave Hotel Kemang
Image Source : Tribun
If you have a not so much budget, Fave Hotel Kemang can be a hotel choice for a staycation. Apart from not having to spend a lot of money, this hotel has good standard hotel facilities, you know!
Little Amaroossa Residence
Image Source : Agoda.com
This hotel, which is located in South Jakarta, is a 3-star hotel that should not be missed. There are two types of rooms in the form of suites and superiors that you can choose for a staycation. The facilities offered are also standard with star hotels where cable TV, coffee makers, safes, and so on are available.
Artotel Jakarta
Image Source : Venuerific.com
If you want to take a vacation while exploring culinary delights, this hotel option can be an option. The hotel is an Artotel Hotel with a unique and instagramable concept and the availability of cafes and bars on the rooftop.
Staycation Benefits
Even if you just stay in one place, the benefits of a staycation are as follows.
Save Budget
If you look at its origins, a staycation really aims to save vacation funds by doing activities only from home. However, if you intend to do a staycation at the nearest villa or hotel, you will indirectly save on transportation budgets such as tickets and gasoline. If you choose to use a private vehicle, the number of costs incurred for the fare will not be as big as if you are on vacation out of town.
Have More Time
The next benefit of a staycation is that you have more time compared to going out of town. The assumption is, if you go out of town, you have to travel quite a distance so that it is less time-efficient. Meanwhile, during a staycation, you can still feel the holiday atmosphere by looking at the scenery and enjoying hotel facilities within a short distance.
Goods Efficient
If a vacation out of town or abroad requires you to bring quite a lot of luggage, a staycation doesn't require you to do that. Just bring clothes and necessities if needed, you can feel the holiday without the need to carry a lot of stuff.
No Travel Drama
Next is to reduce travel drama. As is known, not everyone can afford to travel far. When you want to take a vacation outside the city or country, there are several dramas such as flight delays, being left behind, getting lost, motion sickness and so on. Because the staycation only covers a short distance, it will reduce drama as mentioned above.
No Vacation Plans Needed
In addition to costs, an important thing to consider while on vacation is vacation plans. Making vacation plans is also not easy and requires several considerations so that the vacation becomes quality but does not waste a lot of money. With a staycation, you don't need to bother making vacation plans, especially if the purpose of the staycation is just to stay at the hotel and enjoy the existing facilities.
Refreshing Mind
Another benefit of a staycation is that it can refresh the mind. A staycation can open the mind to new things, and positive thoughts, and for a moment forget about routines that make the mind tired.
Get to know more about the city you live in
From the definition, a staycation can be done in several ways. Starting from just staying at the inn and enjoying the facilities in it or doing activities such as walking around the place to stay. Of course, you can also get to know more about the city where you live while on a staycation, especially if you do it around your residence.
Staycation Health Benefits
In addition to the above benefits, there are health benefits of staycation, such as good stress management. When the body is under stress, the hormone cortisol or stress hormone in the body will increase. When this hormone increases, the body will be susceptible to health problems such as difficulty sleeping, high blood pressure, increased blood sugar levels and other health problems. Therefore, staycation is one way for individuals to maintain the balance of the hormone cortisol which has an impact on their health.
Benefits of Staycation for Child Development
Staycation is also good for children's development because it can strengthen family relationships, increase social sensitivity, and self-confidence, and make children able to adapt. To support this, it is better when doing a staycation, children are taught to do activities such as camping, water play activities, and so on.
Staycation Fund
That's a piece of deeper staycation information in the style of BFI Finance. If you intend to calm your mind and relieve fatigue, you can try the hotel recommendations for staycations above. For the problem of costs, just leave it to BFI Finance. You can go on vacation with your motorbike BPKB guarantee loan in just 10 minutes! The process is easy, fast, and reliable!
To apply for a loan, click the following link.