Jakarta, May 16, 2019 - In today's 4.0 era, PT BFI Finance Indonesia Tbk (BFI Finance) brand is not only widely known offline. Its existence is getting stronger digitally, as proven by BFI Finance's achievement of two awards in the "Infobank Digital Brand Awards 2019" which was held at The Westin, Jakarta (16/5).
These two awards are "1st Rank for the Category of Multifinance Company with Assets above Rp 10 Trillion - Corporate Brand" and "2nd Best Overall for the Category of Multifinance Company – Corporate Brand". The awards are given to companies and products that achieve the highest index in digital branding on online platform and social media. The assessment was conducted from January 2018 to December 2018 using social media monitoring method from Isentia, media intelligence & data technology company from Australia.
In addition, assessment was also made from 7,276 different social media subchannels used for data crawling, among others, Twitter, Facebook, online forums and online news channels. BFI Finance received these awards for the second time, the first one was conferred upon in the Infobank Digital Awards 2016. BFI Finance continues to innovate in various sectors, including strengthening brand and products through digital channels to support business growth and strengthen services.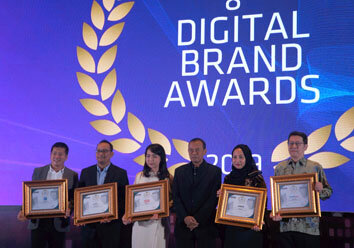 Herman Handoko, Digital Channel Head of BFI Finance (far left), accepted the award
BFI Finance received two awards for digital brand during 2018