Sintang, May 25, 2019 - Increasing its commitment to continuously give positive contribution to Indonesian people, this year PT BFI Finance Indonesia Tbk (BFI Finance) held a series of Corporate Social Responsibility (CSR) programs that raised the theme of "1000 School Uniform and Stationery Movement "(Movement 1000).
This CSR program took place at SDN 12 SP 4, Desa Kajang Baru Village, Sub-district of Sungai Tebelian, West Kalimantan (25/5). BFI Finance shared happiness with students, parents, and teachers from 12 elementary schools (SD) in Sintang and its surroundings which totaled 1,000 people. The principal of SDN 12 SP 4 Pandan, Ratiman, symbolically received the "Movement 1000" package from BFI Finance that was represented by Medy Mirdianata, Regional Manager of BFI Finance of Kalimantan Region 1.
This movement 1000 in Sintang also involved employees to educate the elementary school students to keep their spirit up until the breakfasting time arrives. BFI Finance continuously implements CSR programs and contributes the best to the community and its surrounding, as the Company was born and grow big because of the community.
Playing while learning with Bambang Hartoyo (Area Manager of BFI Finance of Pontianak Region)
BFI Finance together with Jarot Winarno (Regent of Sintang), representatives from the school, the development of elementary school dept, & the local gov. of Sintang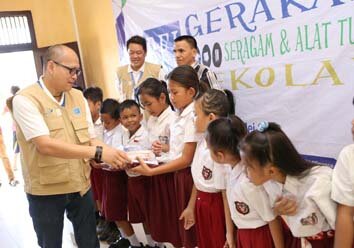 Medy Mirdianata (Regional Manager of BFI Finance of Kalimantan Region 1) while visiting SD 27 Manter, Sintang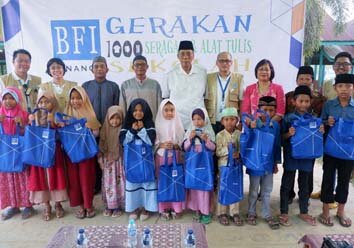 BFI Finance together with Jarot Winarno (Regent of Sintang), representatives from the school, the development of elementary school dept, & the local gov. of Sintang