South Tangerang, September 6, 2021 – PT BFI Finance Indonesia Tbk (BFI Finance) held a private-scheme vaccination program for its employees and communities in Qbig BSD City, Tangerang regency on September 6. This program was the company's effort to help break the chains of COVID-19 transmission.
In cooperation with Qbig, BFI Finance held the vaccination program not only for its employees but also for employees' family, customers nicknamed Sobat BFI, and business partners (dealers or vendors). More than 1,000 vaccine receivers participated, and 500 of them were direct invitees. Certainly at the vaccination venue, SehatQ as the vaccination provider performed re-screening on each received application for Pfizer vaccine. General requirements for the vaccination are minimum age of 18 years, never been vaccinated with any brand of vaccine, and having national identity card (KTP) for BFI Finance's invitees specifically.
Participants of the vaccination program will get their second doses on September 27 or 28 in accordance with their specific vaccination schedule. Do not forget to stay disciplined in applying health protocols wherever we are.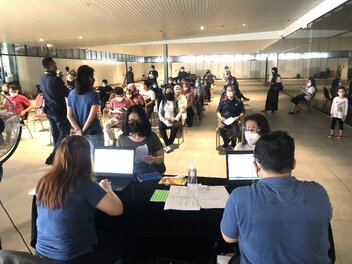 Participants must follow re-registration process for further screening

First doses of Pfizer vaccination program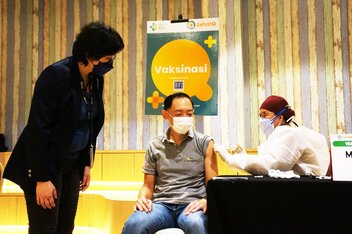 Francisca Susilawati (Head of Corcomm & CSR) inspects
the implementation of vaccination program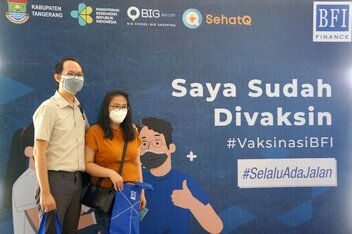 Vaccination and application of health protocols are the keys to breaking
the chains of COVID-19 transmission